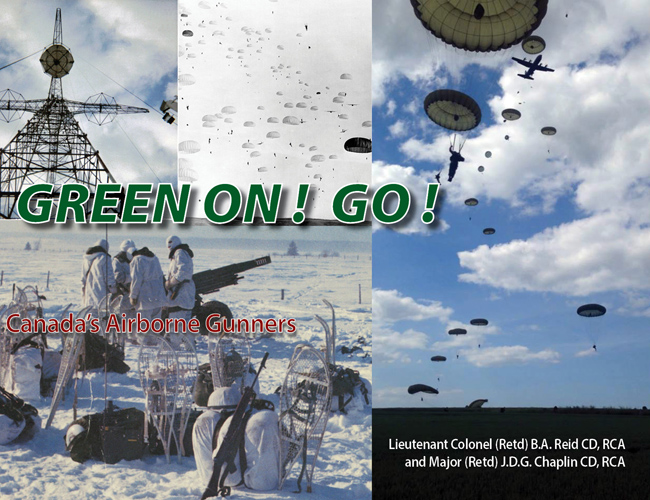 GREEN ON! GO! Canada's Airborne Gunners
LCol (Ret'd) B.A. Reid and Maj (Ret'd) J.D.G. Chaplin
The history of those Members of The Royal Regiment of Canadian Artillery, known as the Airborne Gunners, who volunteered and risked all, in parachute, and glider operations, in peace and war. With extensive photographs, maps and illustrations, this book details who they were, what they did and why, when, where and how they did it.
Authors Brian Reid and Dai Chaplin tell the story of members of The Royal Canadian Artillery who chose to become paratroopers and, in the process, become members of the Airborne family. The authors delve skillfully into the early days of the Second World War through to the reduction of the Artillery Airborne role in the mid-1990s.
Because of their dedication to basic soldiering, the Airborne Gunners not only maintained extraordinarily high technical skills but also, when the operation demanded it, they were able to skillfully convert to what was essentially an infantry role. They proved that during the FLQ Crisis and during the Montreal Olympics but especially during the deployment of the Battery in Cyprus when they were plunged into the midst of the fighting, following the Turkish invasion in 1974.
The result of their dedication was reflected in the operational efficiency of the Airborne Battery and the very high morale of all ranks that, in the words of a former Airborne Commander, essentially became the standard for the other members of the Canadian Airborne Regiment.
This highly readable book deals with aspects largely unknown to most Canadians and few military historians. Every Canadian should read this book.
Length: 208 pages
Publisher: Commoners Publishing
Publish Date: 01/11/2019
ISBN-10: 978-0-88970-193-9